More than an accessory, the makeup brush is now a must-have in our bathrooms.
You are a cosmetic brand, a beauty influencer, a fashion brand, a makeup artist or a spa or hotel manager, and you want to increase your business? You want to launch your own make up brush range but you don't know where to start?
Follow the guide, offered by Taiki - makeup brushes manufacturer for more than 50 years!
Step 1 - Preliminary work before designing your own custom makeup brushes
Know the product
First, a quick technical introduction. A makeup brush is composed of 3 parts:
- Handle: allows the customer to hold the tool correctly, to control the gesture
- Tuft : from natural or synthetic fiber, picks up and applies the makeup formula
- Ferrule: traditionally links handle and tuft part, creating the hair shape

Determine the quality level
Depending on your market target, you may focus on super luxury products, high-end quality, or mass market level. For example, if your brush range is for a makeup artist, you need a brush that can resist to professional cleaning products many times a day. This choice will guide the material types that will compose your tools.
At Taiki, we focus on final quality of the brush, whenever it's a premium or standard product. Here are the points you should check when you evaluate a brush :
- Manufacturing quality : make sure the brush is well assembled. Does the handle come apart when you pull on it? Does some fiber break or come out of the tuft when you use the brush? Does it resist to your standard cleaning protocol?
- Application performance : make sure the feeling and the makeup result meet your expectations. Does the hair correctly pick up the formula? Do you see uneven lines and marks on the skin after application, or a uniform result? Is the fiber itchy, soft, or ultra-soft ?
Sustainability expectations of makeup brushes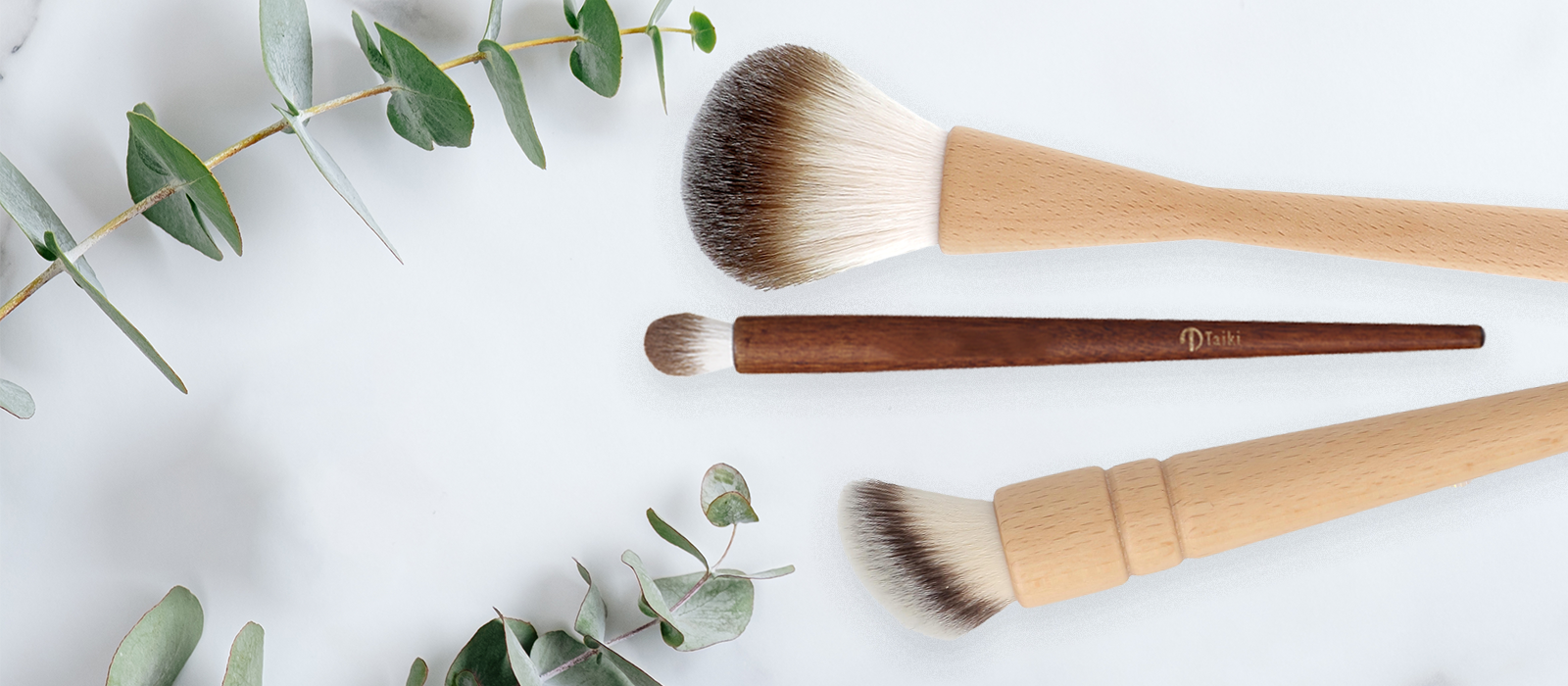 If your brand is committed to planet preservation, you may look for eco-conscious makeup tools solutions: natural materials, recycling, upcycling, eco-design, vegan makeup brushes… Your guidelines will be very important for the designing process.
Range overview
How many makeup brush references do you need? Is it a complete professional brush range, or a short travel brush set ? You will have to determine if you want to cover all areas (eyes, lip, face, even body), or focus on a specific part.
Select an ODM makeup brush supplier
Even if you already manufacture cosmetic products in your own factory, you will need a private label subcontractor to produce your custom brush range. It's a very specific know-how, where products are handmade: it requires a highly qualified work force with experience. You made it to our website, it's a good start !
You are now ready to take the best decisions to design your own custom makeup brushes. Let's see together how we can create a unique makeup brush line for your brand.
Step 2 - Makeup brushes creation with your private label brush manufacturer
Depending on the ODM makeup tools supplier you will work with, more or less options are available to you. You can either work from a standard brush catalog from the manufacturer, pick up the references and add your logo. Or you can develop your makeup brush range or makeup brush set from scratch: you send a brief of what you want, and eventually the benchmark products if you are inspired by accessories already in the market.
What choices do you have to make to develop your customized beauty brushes?
Brush handle
It will give the global look of your makeup brush range or set. What kind of shape and material are you looking for ?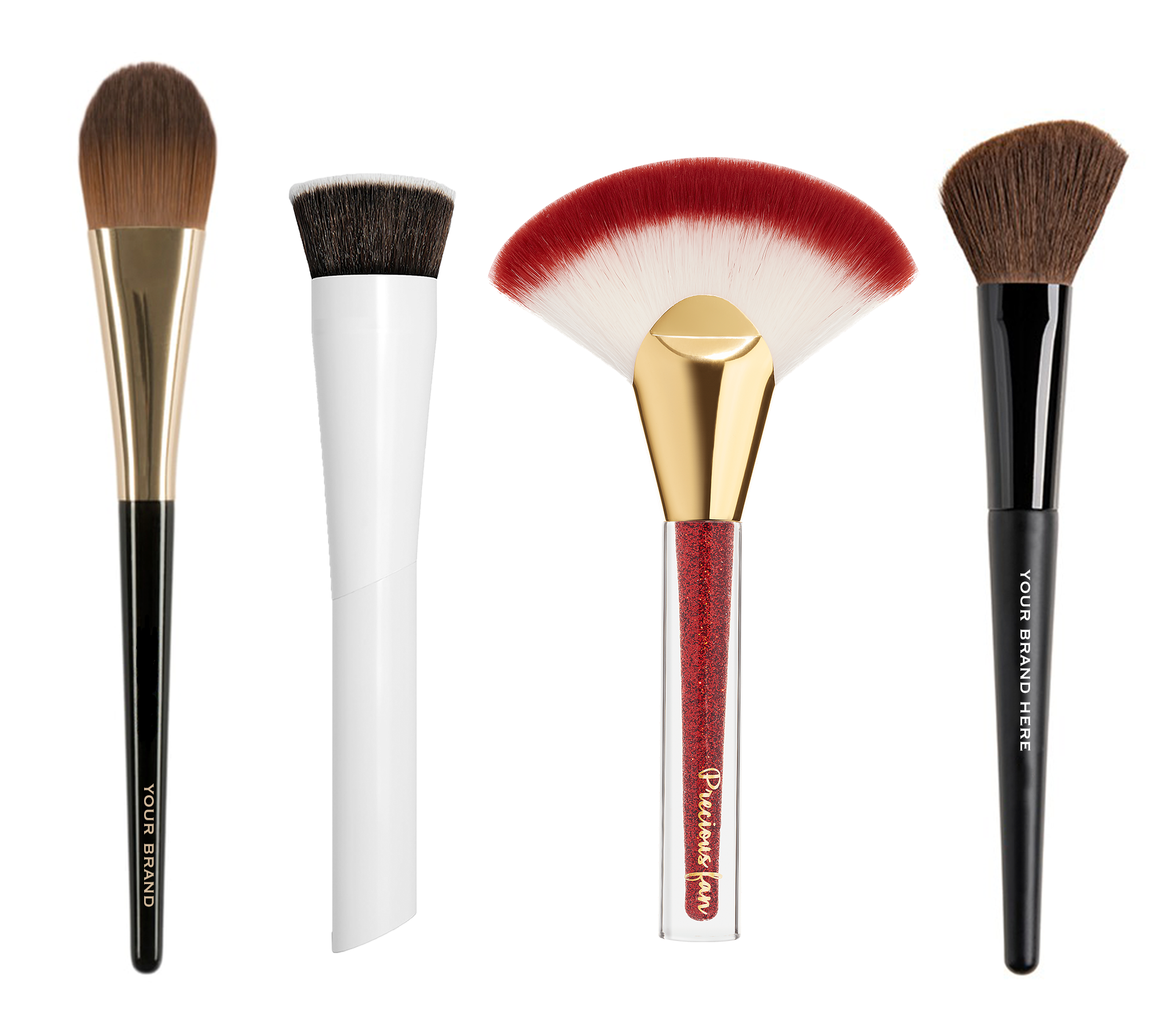 More common materials are wood and plastic, but aluminum is also possible. Wooden handles allow to use a natural material, that can be FSC certified, and are suitable for simple, cylindric shapes. Plastic handles are injected, thus allowing complex shapes that are not achievable with wood. If you are looking for ecofriendly plastic solution, turn to biobased plastic, like our bioresin makeup brushes, that upcycle industrial waste of rice, coffee or tea, to decrease petrochemicals use.

Then, determine color and decoration, with logo laser engraving, silk-screening or hot stamping.
Ferrule
Commonly in aluminum, you can choose the shape (straight, or with a ring) and the color you want : metallic gold, silver, or even matt color match with handle. For an ecodesigned makeup brush range, aluminum ferrule can be totally removed, so the brush is made from one single piece of wood. And to go even further, ferrule can me made of wood and allows to have interchangeable heads to use on one single brush handle.

T

uft
The most important part of each makeup brush is the application head. It will determine the makeup application and results.
Choose the shape of each reference: pick up from standard makeup brush catalogue, take inspiration from benchmarks, or just describe your desired shape or makeup result.

Then, choose one or several fibers. Originally, brush tufts were made of natural hair of animal origin, mainly goat, pony, or marten, with high application performance. The "cruelty-free" awareness and the rise of veganism have led the market to turn to 100% synthetic bristles in PBT or nylon, with different grades and makeup performances, from standard to premium. If you are looking for vegan hair but more natural, we recommend Naturlon 60, a vegan fiber, made of 60% bio-based material, reducing the petrochemicals proportion.
At last, determine the color, from 1 to 4 tones.
Packaging
Makeup brushes can come with a hair protection or can be packed into cardboard box or pouch. The best packaging solution will be tailor made for your brush line or brush set.

Once all these steps are complete, makeup brush manufacturer will submit drawings and samples from factory for validation.
And if you hesitate, we can help you to create the best brush for each application or formula, thanks to our long experience in makeup tools development! We study any project from 1 000 pcs per brush reference.