One year after launching a wide range of turnkey natural & made in Europe sheet masks, a new technical reference has enriched "My Active Mask" range. This is the result of the partnership between MS Beautilab and Taiki Cosmetics Europe.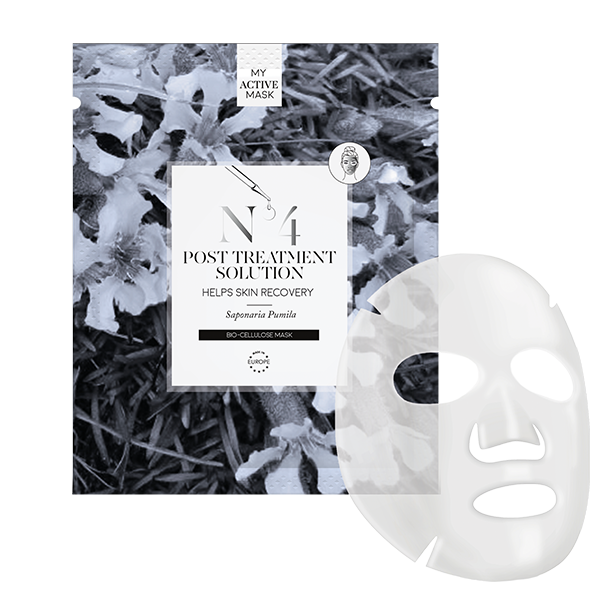 "N°4- Post Treatment Solution" is a concentrate of technology, specially developed to help skin recovery after a skincare treatment.
A concentrated essence boosted in active ingredients
Formulated by the Swiss laboratory of MS Beautilab, the emulsion incorporates a cocktail of active ingredients with protective, moisturizing and soothing properties. Among them, a patented ingredient from Mibelle Biochemistry, the PhytoCellTech Nunatak. Derived from stem cells of Saponaria pumila, an extremophile plant of the Alpine mountains which survived the last ice age by taking refuge on a nunatak (summit of a rocky peak emerging from the ice), this active ingredient protects dermal stem cells against the loss of the "stem" character induced by UV rays. It redensifies the skin and improves its elasticity and firmness from 1 week of treatment.
Allantoin and a natural polysaccharide will also be found, which increase the skin's self-protection capacity, accelerates cutaneous repair and restores the skin moisture barrier.
An innovative bio cellulose support
This concentrated formula is impregnated on a unique support on the market, the Dried Bio Cellulose, a safer and more effective bio-cellulose mask thanks to an innovative production process. It develops a high absorption capacity thanks to its 3D network structure, boosting long-term hydration. Its second skin effect is incomparable, very adherent and perfectly fitting the face, while offering an immediate and lasting feeling of freshness. More effective than a conventional non-woven fabric, it also exceeds the performance of the traditional wet bio-cellulose mask:
• Superior active ingredients release
• Safer because no preservatives are used
• Twice as absorbent
Naturality first
Post Treatment Solution is proof that an effective mask can give pride of place to naturalness, with a formula containing more than 94% of natural origin and locally produced ingredients (formulation and filling in Europe).
The Dried Bio Cellulose support is 100% natural, with a resolutely sustainable approach through upcycling of coconut waste from which it is produced by bio fermentation.
To learn more
The partnership deal established in 2018 between MS Beautilab (then Strand Cosmetics Europe and MS Swiss Cosmetics) and Taiki Cosmetics Europe pooled our scientific, technical and industrial expertise to offer a full-service sheet masks range that is unique in Europe. The jointly developed range of modular and customizable solutions is based on a selection of tried and tested fabrics and formulas exclusively made in France and/or Switzerland.
As part of this association, and in order to meet the ever shorter "time to market" demands of skincare brands, no less than 8 references of turnkey masks spread over 3 ranges are already available in the MS / Taiki catalog:
• My Color Mask, entry-level, playful products targeting young customers
• My Nature Mask, an offer resolutely invested in naturalness, and COSMOS certifiable
• My Active Mask, a premium range focused on dermo-cosmetic performance