Subsidiary of the Japanese industrialist TAIKI GROUP, application expert since 1930 with the invention of the makeup sponge, and private label manufacturer of cosmetic brushes, custom sheet masks, powder dispensers, cushion solutions, Taiki Cosmetics Europe is proud to support European beauty brands in their success for 10 years now.
On the occasion of this anniversary, Taiki Cosmetics Europe wished to reaffirm its expertise in the cosmetic application by adopting a new graphic identity. More modern and sleek, this new design inspired by Zen gardens is anchored in the Japanese origins of the company, while offering an image resolutely turned to beauty. He embodies the values of Taiki : Japanese quality and know-how, cosmetic expertise, reliability, Kaizen philosophy (continuous improvement).
The Taiki logo remains unchanged, a strong link between all group entities: headquarter, sales offices and group factories around the world.
This new brand identity will apply to all communication tools of Taiki Europe, as well as its new website which is scheduled to be launched in June.
A new website for Taiki Cosmetics Europe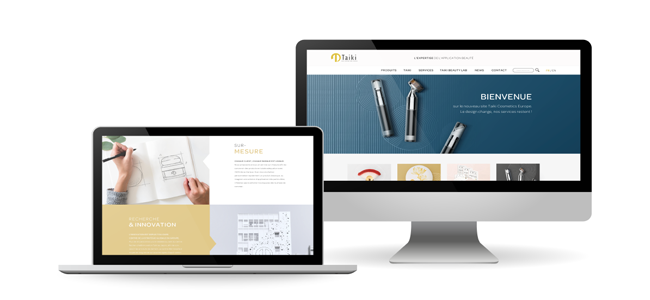 Taiki Europe takes advantage of this new graphic identity to launch in June its website www.taikicosmetics.com, offering easy access to all of its product categories.
This new website will inform, inspire and guide skincare and make-up professionals towards the best application solutions to enhance their formula. Taiki Europe strengthens in this way its digital presence and deploys its new graphic identity on a resolutely modern, elegant and intuitive platform.
The site will propose in particular :
- Two languages to choose from, French or English
- A responsive design to adapt to different screens : computer, tablet and mobile
- An interactive face inspired by the "face charts" of the Makeup Artists, in order to carry out a search by application area
- A search engine to directly access a product or information
- Easy contact with Taiki Europe teams
The new face of Taiki Cosmetics Europe will be officially presented at the Makeup In Paris show on June 21 & 22, the perfect occasion to celebrate this 10th anniversary with its customers, partners and suppliers.